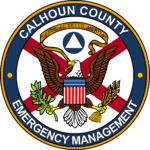 June 17, 2020
FOR IMMEDIATE RELEASE
Myles Chamblee, Public Information Officer
Office: 256-435-0540; Cell: 256-499-8607; Email: mchamblee@calhounema.org
______________________________________________________________________________
CALHOUN COUNTY COVID-19 PRESS CONFERENCE
Calhoun County, Alabama – Today, Wednesday, June 17, 2020 at 4:00 p.m. Calhoun County EMA will conduct a press conference giving an update on the current COVID-19 situation.
At a time when the State of Alabama is reporting a record number of COVID cases, Calhoun County has just hit 200 total positive cases. There has been a steady increase in the number of cases per week over the last four weeks, and last week was the 2nd highest week of new positive cases to Calhoun County since the onset of COVID-19. The number of deaths in Calhoun County has doubled in recent weeks from holding at 3 deaths for over a month, with 4 confirmed and now 2 probable, which are currently being investigated.
Director of Emergency Management, Michael Barton stated, "COVID still poses a real and present danger. We must remain diligent with the recommended precautions. It is essential for each of us to take individual responsibility and do all we can to protect ourselves and others from the danger of COVID-19 in Calhoun County."
The media is invited to be present at the Calhoun County Emergency Operations Center located at 507 Francis Street W, Jacksonville, Alabama. The live update can also be viewed at www.facebook.com/CalhounCountyEMA .