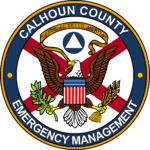 September 25, 2020
FOR IMMEDIATE RELEASE
Tiffany DeBoer, Public Information Officer
Office: 256-435-0540; Cell: 256-913-7004; Email: tdeboer@calhounema.org
______________________________________________________________________________
CALHOUN COUNTY COVID-19 LIVE QUESTION AND ANSWER SESSION
Calhoun County, Alabama –Monday, September 28th, 2020 at 3 p.m. members of the Calhoun County Unified Command will provide a live Question and Answer Session. During the session, we will discuss the state of COVID-19 in the County, Alabama Department of Public Health (ADPH) Infection Prevention and Control Team, and the possible impacts of COVID-19 during Flu season. The Q&A will be with the ADPH's Infection Prevention and Control team Nurse Supervisor, Lindsey Laminack and Calhoun County Public Information Officer Tiffany DeBoer.

Time: 3:00 PM
Platform: Facebook Live (www.facebook.com/CalhounCountyEMA)
The access will be virtual and the media is encouraged to participate by sending questions to Tiffany DeBoer at tdeboer@calhounema.org by Monday, September 28th at 12:00 PM.

The video will be produced following the Q&A on Monday via Google Drive. The Google Drive link will be sent out via email.