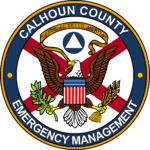 August 17, 2020
FOR IMMEDIATE RELEASE
Tiffany DeBoer, Public Information Officer
Office: 256-435-0540; Cell: 256-913-7004; Email: tdeboer@calhounema.org
______________________________________________________________________________
FACEBOOK LIVE Q&A SESSION WITH CALHOUN COUNTY EMA DIRECTOR, MICHAEL BARTON
Calhoun County, Alabama – Today, Monday, August 17th, 2020 at 3 p.m. members of the Calhoun County Unified Command will provide a live Question and Answer Session. The session will discuss the state of the county as well as prevention and preparation for COVID-19 as schools begin to
reopen. The Q&A will be with Director Michael Barton and Public Information Officer Tiffany DeBoer.

Time: 3:00 PM
Platform: Facebook Live (www.facebook.com/CalhounCountyEMA)
The access will be virtual and the media is encouraged to participate by sending questions to Tiffany DeBoer at tdeboer@calhounema.org by 1 pm today.
The video will be produced following the Q&A via Google Drive. The Google Drive link will be sent out via email.