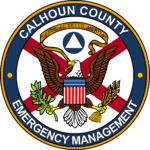 January 5, 2021
FOR IMMEDIATE RELEASE
Tiffany DeBoer, Public Information Officer
Office: 256-435-0540; Email: ema@calhounema.org
______________________________________________________________________________
COVID-19 VACCINATIONS STATEMENT
Calhoun County, Alabama –Those who are 75 years or older can now come to the Anniston City Meeting Center until 3PM today, 1/5/2021, and from 7AM to 3PM on Wednesday, 1/6/2021 and Thursday 1/7/2021 to receive the COVID-19 vaccine.
Due to meeting the need of Alabama Department of Public Health's Vaccine Allocation Plan priority group 1a, the joint vaccination site at the Anniston City Meeting Center has been expanded to the subset of group 1b that includes ONLY those in Calhoun County that are 75 YEARS OR OLDER.
The supplies are limited and are first come first serve. No appointment needed. The vaccines are free are of charge. First responders and healthcare workers can still receive the vaccine on the days mentioned above.