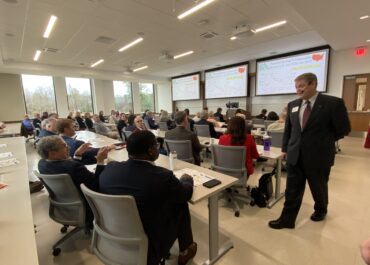 Each year, the Chamber hosts an Economic Forum in partnership with the Jacksonville State University College of Business & Industry. This event is held every Spring and focuses on our local, state, and federal economy. 
Presented by Dr. Mark Hearn, Jacksonville State University
Many thanks to our sponsors and attendees for making this event an annual great success!
Small businesses play a crucial role in the Calhoun County Area community and economy and the Chamber is proud to recognize their accomplishments, successes and contributions throughout the year through our Small Business Awards programs. Ninety percent of Chamber members are considered small, having less than 100 employees, and many of these companies are truly deserving of these prestigious awards.
Each year the Chamber recognizes an Emerging and Sustaining Small Business, a non-profit of the Year, a Professional of the Year, a Small Business Advocate of the Year, and the The Lifetime Achievement Award. 

Join the Calhoun County Area Chamber & Visitors Center for our most popular business event, the Annual Salute to Industry Golf Outing. Golf outings aren't just for leisure; they are a great opportunity to make new business contacts or develop existing relationships in a fun, relaxed atmosphere. 
This event includes 18 holes of golfing, lunch, and giveaways – all to support the mission, vision and work of the Calhoun County Area Chamber & Visitors Center.  There are many sponsorship and promotional opportunities in a variety of price ranges to provide your business/organization an avenue to promote effectively to a large audience.
The Chamber's Business Expo is this area's  largest business showcase, attracting more than 100 companies and organizations from across the region to feature their products, services and employees. The Expo draws hundreds of visitors each year and offers visitors the opportunity to get an up-close look at the diversity and ingenuity of the region's business sector.

For Exhibitors, the Expo is an opportunity to promote your business to decision-makers, customers, potential employees, and future partners. You'll have a unique new opportunity to connect and collaborate.

 For Visitors, whether you are looking for more information about businesses, products and services in the Calhoun County area, or you are seeking the opportunity to network, this is the place to be! Come sample some of the region's finest foods – the Taste of Calhoun County will bring a variety of flavors to try and enjoy.
Calling all Calhoun County Area Chamber & Visitors Center members! Join us each October for our annual Business Big Shots Sporting Clay Shoot! Will you be one of the Chamber's Big Shots?
*Shooters will need to register at check-in as individuals to get safety card. Bring your own guns, ammunition, and eye protection. Hearing protection will be provided.
Interested in sponsoring? Call 256-237-3536 or email audreym@calhounchamber.com for more information
We invite our members to join us for Member Appreciation Day, in-person, every Fall.
We are giving away free door prizes for those who attend, while supplies last. 
Get ready to do the Electric Slide, the Cupid Shuffle, the Cha Cha Slide, the Git Up, and other dances!
Support our local restaurants and buy lunch at one of our food vendors. 
PITCH is an innovative and unique way for the Chamber to further serve our community, where one small business will win a cash prize to build their business and further their growth. All received applications will be narrowed down, and those selected will compete LIVE by making a presentation (or pitch) to the judging panel and the crowd at our PITCH Competition.
The winning small business will be awarded a prize in capital; however, each business invited to present will receive substantial visibility through its ability to tell its story to the panel and crowd attending. 
YOUTH ENTREPRENEURSHIP EXPO (yee)
The mission of the Youth Entrepreneur Program is to encourage more young people to be engaged in and help shape a program geared toward connecting students to the business community.
The Youth Entrepreneurship EXPO is for those Calhoun County area small business owners in the 8 – 18 age range. Youth Entrepreneurs that register and are accepted will each have a Business Mentor to help guide them during the EXPO and give business advice. 
For more information about the Youth Entrepreneur Program, contact Kim Boyd at kimb@calhounchamber.com.